An Alaskan Lodge Overlooking Kachemak Bay & Cook Inlet
Maps & Directions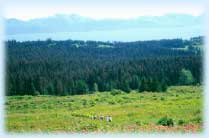 Twin Creeks Trailhead Lodge and Retreat is located at the Homestead Trail Trailhead off Diamond Ridge Road, ten minutes drive from town. Drive north on the Homer Bypass towards Anchor Point. Turn right just past the edge of town on West Hill Road. Take a left at the Diamond Ridge/Skyline Drive Y and wind your way up the hill for 1.8 miles. TURN LEFT at Nearly Level Rd. (Lat/Long = 59 40 42.2 N, 151 36 00.8 W) . Follow the bumpy driveway to the bottom of the hill. Turn left at the YURT and follow to end of driveway. You will be right in front of the lodge sign and building. Click to see Google Map

Directions from Anchorage: After you pass through Anchor Point drive approximately 10 more miles and look for milepost 167. Turn left onto Diamond Ridge Road. Continue on up Diamond Ridge Road 2.9 miles to Nearly Level Rd. sign and TURN RIGHT toward the sea. Go down the 1/4 mile long driveway until you see the big white YURT ( large round tent) and keep LEFT of yurt until you can't go any further and you will be right in front of the lodge.

Homer Trails Alliance maintains the Homestead Trail during the summer months. The route winds through the hills from the trailhead at the lodge to the southern trailhead of the Baycrest Trail System.
During late spring and early summer, the upper meadows of the Homestead Trail System serve as temporary feeding grounds for Sand Hill Cranes on their annual journey north to their breeding grounds. Later in the summer, these hills turn to bright pink as the fireweed blossoms mature. The trail winds through these meadows of head high fireweed and other wild flowers to the lower muskegs and moose habitat of the headwaters of Diamond Creek.

Click HERE for a large printable Ski Trail Map (107k download)
---
Home | The Lodge | Your Hosts | Maps & Directions | Booking Info
Workshops & Events | Other Homer Activities | Slideshow


Twin Creeks Trailhead Lodge & Retreat
65195 Nearly Level Road, Homer, Alaska 99603
Phone 907-399-7678
Email: tctlreservations@gmail.com
Site created & maintained by Net Alaska Web Services Homer, Alaska
© Twin Creeks Trailhead Lodge and Retreat and Net Alaska Web Services, Homer, AK